al. My first airline Air Littoral by DSp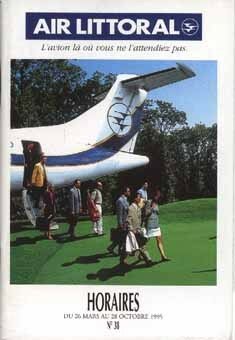 Ma première compagnie et Mes premières heures de vols !......
hélas collecteur maintenant !
Air Littoral was an airline in France founded in 1972 and originally based at Montpellier. Over the years KLM, Euralair, Lufthansa and the SAir Group (Swissair) , who sold their stake in 2001, all had ownership stakes in Air Littoral. A takeover failed in 2003 and the company was declared bankrupt. A number of groups considered taking over Air Littoral including Azzurra Air (which shortly after ceased operations due to its own financial difficulties), but none succeeded and the airline was closed down by the French authorities in February 2004.

Air Littoral had operated a fleet of 17 CRJ-100s from bases in Nice, Montpellier, Paris (Orly) and Marseille, and was well known for the bright livery its planes sported in the years before its demise.